A 16 ft. portable cabin from Deer Creek Structures gives you a sturdy and reliable exterior with a comfortable interior you can use anywhere.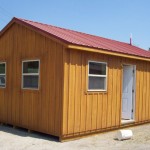 Price Starts At: $10,300.00
Deer Creek Stables will construct finished prefab portable cabins or unfinished prefab cabins according to your specifications, with the size, features and amenities you need.
The prefabricated 16 ft. portable cabins give you a spacious and sheltered area you can move in quickly and enjoy immediately, whether you need extra storage space, an extra working area or an extra home base.
| Cabin Size | Unfinished Price | Finished Price |
| --- | --- | --- |
| 16x20 | $10,300 | $25,660 |
| 16x24 | $12,220 | $30,652 |
| 16x28 | $14,140 | $35,644 |
| 16x32 | $16,060 | $40,636 |
| 16x36 | $17,280 | $44,928 |
Standard Features List:
Metal Roof – Standard
Siding – -Cypress board and batten Standard
Options:
Interior can be comprised of tongue and groove cypress, pine or cedar
Corrugated metal ceiling or a wainscot panel
Standard vaulted or an 8″ flat ceiling
Exterior can consist of board and batten or horizontal siding, and can be made from cedar or cypress
Roof Decking Overhangs – 7/16 OSB Standard
Vaulted Ceiling – Standard
Choose from standard features or customize your 16 ft. portable cabin according to your needs.
The unfinished prefab cabin gives you the freedom to include everything you need on your own schedule while building the interior and exterior with future plans in mind.
The finished portable cabin includes everything you need all in one place.
Include an extra kitchen to enjoy when you're far away from home, add a storage space near your barn, or add a secondary space to host your business, including horseback riding, farming, ranching, lessons and more.
Choose from tongue and groove cypress, pine or cedar inside and board and batten or horizontal siding made from cedar or cypress outside.
Learn more about special features online or contact Deer Creek Structures today to place an order.