Prefabricated aisle barns are one of the most convenient structures you can have for your cattle or livestock ranching or farming operation.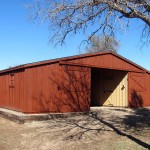 Featuring a center path with stalls and storage spaces on either side, these aisle barns are the classic barn that most people think of when envisioning a barn.
As a horse owner, breeder or rancher, you know this already, but may be looking to expand your operations or replace an old and dilapidated barn.
Aisle Barn Examples
Our pre-built aisle horse barns are built to last
The aisle barns come with a range of standard and optional features to make sure that they offer all of the conveniences and amenities that you're looking for.
All aisle barns come standard with:
10- or 12-foot center aisles
30-year architectural shingles in your choice of colors
Cypress board and batten siding
5/8-inch plywood flooring
Looking to customize your aisle barn to make it more convenient?
No problem! Choose from this full range of custom options and add-ons:
Dutch doors leading outside on the back of each stall
Additional service doors or sliding doors
Extra windows or ventilation
Custom additional partitions
Metal roofing optional
Cupolas and weather vanes to customize the look
When you order an aisle barn from Deer Creek Structures, you also have the option to choose on-site construction or sealing and staining service, meaning you can have your horse aisle barn built and finished fast.
We also include delivery to locations within 300 miles of our Chilton, Texas facility.
Find out more about our aisle barns and other structures or place an order for your new outbuilding by giving us a call at 254-546-2276 today.