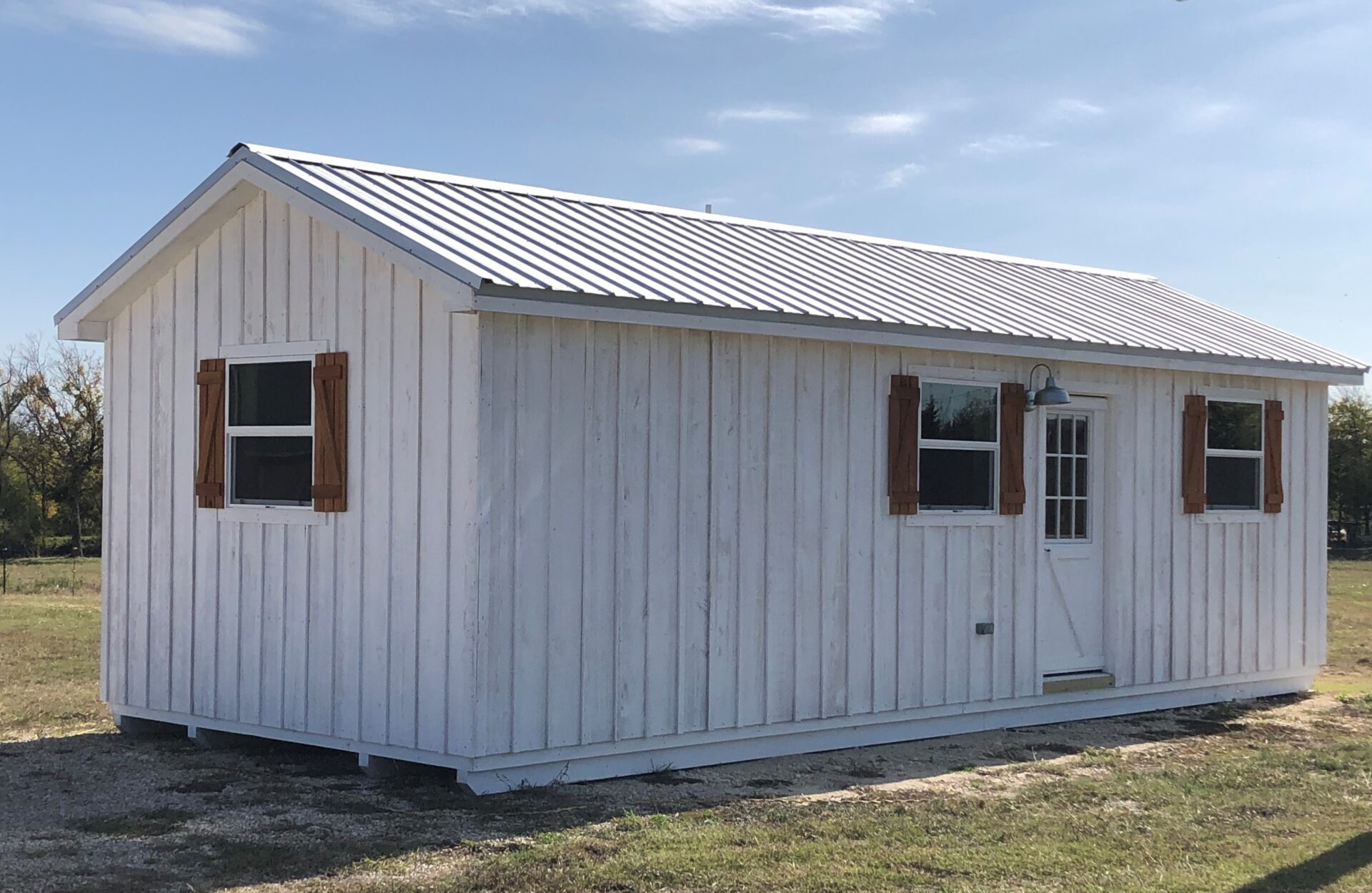 Prefab Cabins 10'-12′ Finished & Unfinished
The 12 ft. portable cabins give you a variety of useful features in a compact space.
The prefab cabins are constructed with a metal roof to withstand harsh sunlight, rain, hail, snow and other inclement weather, with a vaulted ceiling to give you extra space for tall objects or extra space to move around.
Choose from cypress board and batten or horizontal siding in either cedar or cypress and choose from tongue and groove cypress, pine or cedar for a fresh, clean inside. A corrugated metal ceiling or wainscot panel offers extra protection and gives the finished or unfinished cabin extra longevity.
The cabin can be equipped with a variety of features including a living room, dining room, bathroom or kitchen to give you access to all the amenities you need.
Order a finished portable cabin with the features, space, look and amenities you need. Choose from a 12×16 to 12×36 and six sizes in between to get the perfect construction for your needs. For larger sizes see our 14 ft. or 16 ft. cabins. If you are interested in having a solid USA built structure on your property fill out the contact form at the bottom of the page to get started.
10' and 12' PREFAB CABIN PRICING. FIND YOUR SIZE.
| Cabin Size | Unfinished Price | Finished Price | Purchase Info |
| --- | --- | --- | --- |
| 10x16 | $11,760 | $22,700 | |
| 12x16 | $14,100 | $26,900 | |
| 12x20 | $17,600 | $33,600 | |
| 12x24 | $21,100 | $40,300 | |
| 12x28 | $24,700 | $47,100 | |
| 12x32 | $28,200 | $53,750 | |
| 12x36 | $31,700 | $60,500 | |
Our Prefab Cabins Speak For Themselves
In Stock Cabins, Barns & Run-in Sheds

We have portable cabins in stock for quick delivery. Our most common prefab cabin sizes are kept on our lot. Contact us today to see if an in stock prefab cabin will work for you.
Find out what Size Cabins are Available!
What You Need To Know

Our Prefab Cabins Come Standard with:
Cabins can be built to your size specifications starting at 10×16 and ranging to 16×36
Cabins come standard with metal roof
Cabins come standard with spray foam insulation
Siding – Cypress board and batten Standard
We also understand that you need your cabin to work for you and the specifics of your operations.
That's why we also offer a selection of optional features to make your cabin more unique and to match with the needs of your horse farm or ranch.
We also offer convenient onsite construction and sealing and staining services to ensure your cabin lasts for years to come. Free delivery is also included in your purchase price to locations within 300 miles of our headquarters in Chilton, Texas.
Our add-on options include:
Extra 36″ steel door………$425.00 per
Extra windows……………..$ 225.00 per
Motion sensor lites………..$95.00 per
20″ electric stove………….$850.00
30″ full stove………………..$1150.00
60″ tub/shower. upgrade .$195.00
40 gallon water heater….. $495.00
1 ton mini split system………$3,500.00
Extra cabinets……………… $325.00 per
Not Just Texas!

We deliver our cabins to the surrounding states and can also custom build to meet your needs. We are located and central Texas and know what it takes to build a portable cabin that will hold up to the environments specific to your area. Contact us today for options and pricing for a prefab cabin.