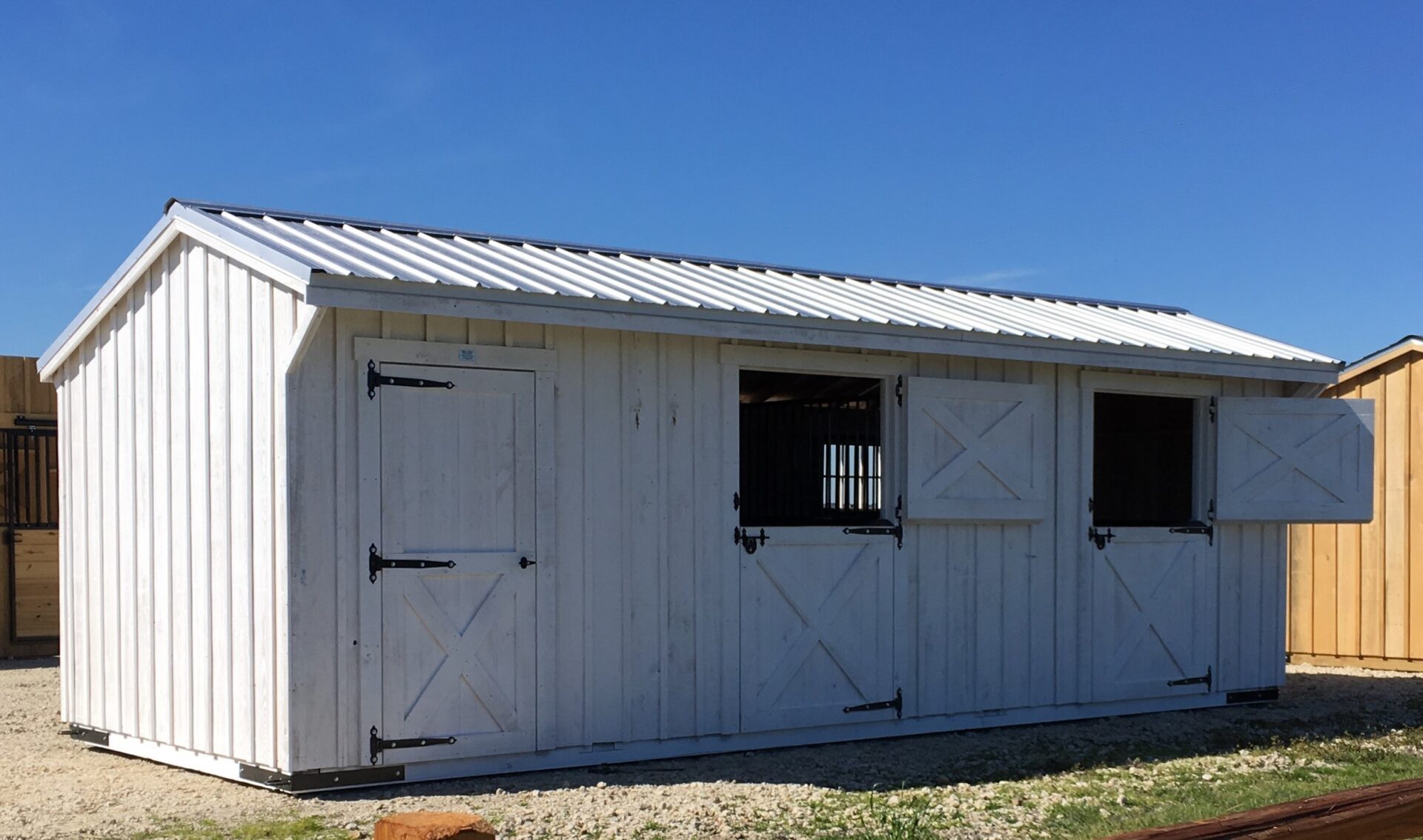 10' Portable Shedrow Barns in Texas
At Deer Creek Structures, we specialize in prefabricated portable shedrow barns and sheds for horse and livestock housing. To select your own custom barn or shed options click here and we will contact you to confirm all of your options prior to building your structure.
Our 10-foot pre-built shedrow barns are an excellent choice, and come with a full range of convenient amenities and features. We also offer a 12 ft shed row barn starting size option.
Portable Shedrow Barn Prices Starts At: $5,725.00
Scroll down to view more available options to be built into your structure. 
All of our portable 10-foot wide barns can be configured with lengths to meet you need, available in 2-foot increments from 10×10 to 10×50. Contact us with what size you are interested in below. We even carry some standards in stock if you have an immediate need. Another good thing about purchasing from us is our barns are made in the USA and we hand deliver to states surrounding Texas.
10' Shedrow Barn Pricing
| Barn Size | Prices |
| --- | --- |
| 10x10 | $6,011 |
| 10x12 | $6,599 |
| 10x14 | $7,239 |
| 10x16 | $7,885 |
| 10x18 | $8,531 |
| 10x20 | $10,473 |
| 10x22 | $11,124 |
| 10x24 | $11,754 |
| 10x26 | $12,416 |
| 10x28 | $13,046 |
| 10x30 | $14,988 |
| Barn Size | Prices |
| --- | --- |
| 10x32 | $15,639 |
| 10x34 | $16,432 |
| 10x36 | $17,062 |
| 10x38 | $17,797 |
| 10x40 | $19,451 |
| 10x42 | $20,238 |
| 10x44 | $20,868 |
| 10x46 | $21,656 |
| 10x48 | $22,312 |
| 10x50 | $24,307 |
In Stock Portable Barns, Run-In Sheds & Cabins

Deer Creek Structures delivers horse barns for sale to Texas and the surrounding states. We know how a horse barn should be built to combat the unique weather in our region. Click your state below to find out why you should choose Deer Creek Structures. View our stock by clicking the button below.
What You Need To Know

Our Portable Shedrow Barns come standard with:
Portable shedrow barns can be built to your size specifications starting at 10×16 and ranging to 16×36
30 yr. Architectural Shingles
Siding – -Cypress board and batten Standard
We also understand that you need your portable horse barn to work for you and the specifics of your operations.
That's why we also offer a selection of optional features to make your shedrow barns more unique and to match with the needs of your horse farm or ranch.
Our add-on options include:
Interior can be comprised of tongue and groove cypress, pine or cedar
Corrugated metal ceiling or a wainscot panel
Standard vaulted or an flat ceiling
Exterior can consist of board and batten or horizontal siding, and can be made from cedar or cypress
Roof Decking Overhangs – 7/16 OSB Standard
Vaulted Ceiling – Standard
We also offer convenient onsite construction and sealing and staining services to ensure your barn lasts for years to come. Free delivery is also included in your purchase price to locations within 200 miles of our headquarters in Chilton, Texas.
Have Questions?
"*" indicates required fields
Learn more about Deer Creek Structures
Our Barns Speak For Themselves
Not Just Texas!

Mauris fringilla aliquam augue in fermentum. Vivamus a est massa. Donec sit amet sem nisl. Mauris non ante sed arcu consequat bibendum. Nulla porta nunc sed bibendum ornare. Curabitur gravida, lorem id ornare aliquam, ante ante feugiat ante, eu cursus lorem mauris eu ante. Sed ut mattis lorem.