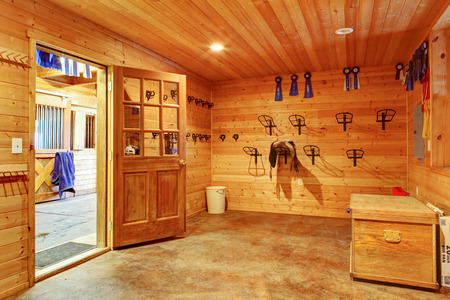 Does it take you 20 minutes to find your horse's comb when you go to the barn to groom them? Do you have to move a pile of junk just to get to that comb when you do find it? Is that the same pile of junk you had to move yesterday when you were looking for pillow wraps?
Caring for a horse is a lot of work, so it's understandable that you don't always have time to devote to keeping your barn organized. There are a few small, manageable steps you can take though to ensure you're making the most of your storage space and keeping your barn as functional as possible!
Declutter your stock.
Okay, we know this isn't necessarily a small task, but an hour or two spent decluttering will go a long way when it comes to maximizing storage space in your barn. Supplies and equipment can pile up quickly over the years. It's important that you periodically take inventory and get rid of items you no longer use. Make an effort to be honest about what you really need and are going to use!
Use household organizers for efficient storage solutions.
Who says everyday household organizers are only useful in the house?! Boxes, racks, boards, and other organization tools designed for your home can double as great storage hacks for your barn! Here are a few good places to start:
Bathroom organizers are perfect for cleaning up and arranging your wash rack.
Small storage containers can help you keep your tack organized.
Over-the-door organizers are a great spot to keep grooming supplies and accessories.
Peg boards can be useful for holding helmets, horseshoes, bits, and other tools.
Install shelving.
Create more usable storage space in your barn by installing shelves on the wall! Shelves are perfect for storing your supplies and making it easy to access everything in your inventory, which helps you stay organized. Try repurposing a pallet into a DIY shelf for something charmingly rustic and functional.
If you've tried all the DIY storage hacks and organization ideas to create more space in your barn but you're still coming up short, it might be time for an upgrade. The sheds, barns, and cabins we build here at Deer Creek Structures make excellent storage solutions as well as reliable shelter for your horses.
Contact us today to inquire about our prefab buildings or to get started on a custom structure!