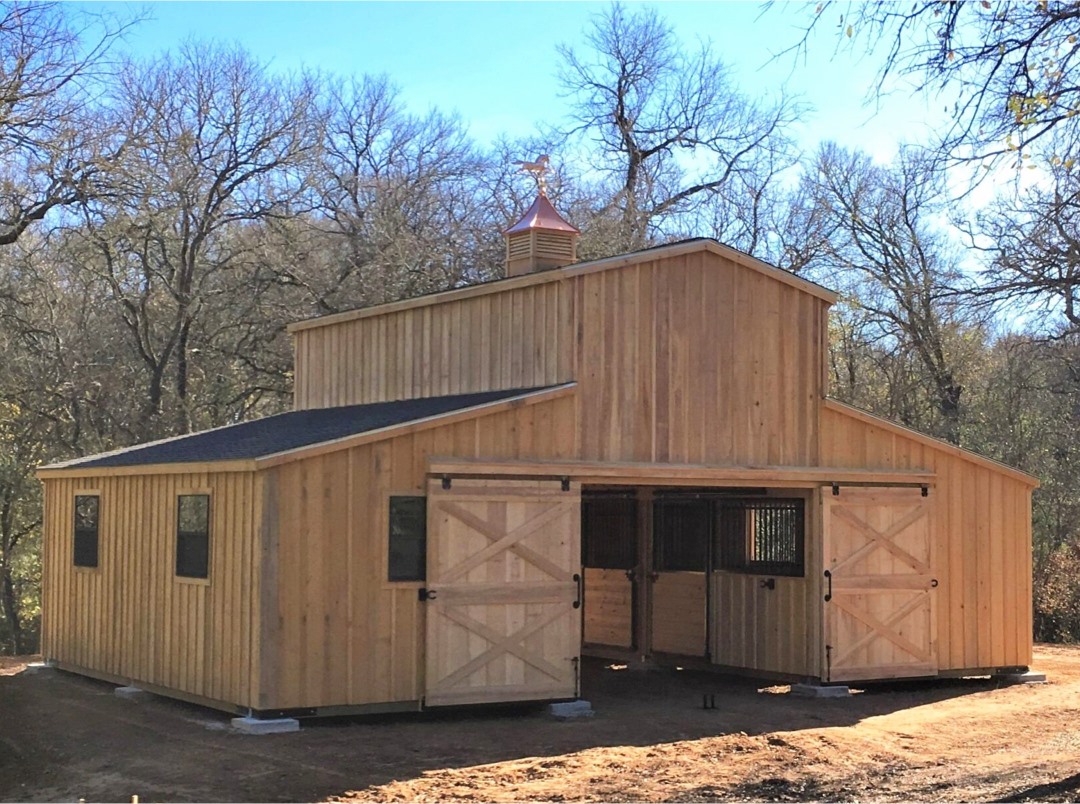 Buying a barn is an investment not only to improve your property, but also to improve the quality of life for your animals. To serve those purposes, you want to choose a building that looks good, lasts a long time, and will protect and comfort your livestock. The type of siding you select for your barn will be one of the biggest factors in how well it can meet these needs.
A popular type of siding that is used for barns and other buildings, and one we use often here at Deer Creek Structures, is cypress.
Here are a few reasons cypress siding is an ideal option for your barn:
1) Cypress is extremely durable.
Cypress wood contains a natural preservative oil, cypressene, that acts as a protective coating. This makes cypress siding naturally resistant to rot, insects, fungi, and weather damage before even being treated. If you maintain it properly and apply sealant periodically, a cypress barn will last for generations.
2) Cypress siding is energy efficient.
Cypress grows slower than many other trees, allowing it time to become denser. The thicker the wood your siding is made from, the better insulated you barn will be. Cypress siding helps regulate the internal temperature of your structure, saving energy and saving you costs on heating and cooling throughout the year.
3) Cypress siding looks beautiful.
With its straight grain, medium texture, and natural honey color with greenish, red, or brown undertones, cypress siding will make your barn look rustic, inviting, and elegant all at once. If you leave your siding untreated, it will fade to a gorgeous soft pewter gray. But if you prefer to customize it to achieve a certain look, cypress takes paint and stain well too.
Since 2005, Deer Creek Structures has been offering quality barns, run-in sheds, cabins, and other farm structures that are highly customizable to meet your needs. Outfitted with durable and attractive cypress board and batten siding, your building will be designed to last for decades to come.
Give us a call at 254-546-2276 to learn more about our prefab and custom-built structures!