Owning and caring for a horse is a wonderful, enriching experience! In addition to developing a special relationship with your horse, you'll also learn how to handle the level of responsibility that comes with managing another creature's well-being.
One of the primary duties every equine caretaker must take on is to maintain a clean and orderly stall. Ensuring your horse has a comfortable place to live is an integral part of keeping him happy and healthy. Use these four tips to make sure you're giving your beloved horse the quality home he deserves!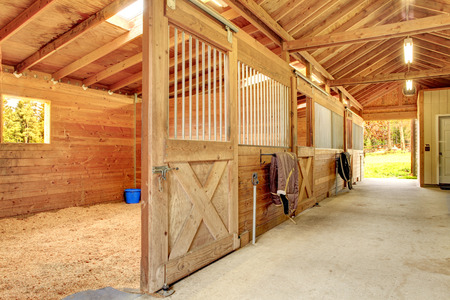 1.) Use the right tools.
In order to clean your stall safely and efficiently, be sure to have the appropriate tools available! Secure a pair of thick gloves and rubber work boots to protect against bacteria that could be living in horse urine or manure. For the cleaning process itself, you'll need a pitchfork, shovel, and wheelbarrow to hygienically remove used bedding, droppings, dirt, and other hazardous debris.
2.) Only clean an empty stall.
Make sure your horse is out of and away from the stall as you're cleaning. Move him to an empty stall, halter him outside, or use the opportunity to let him graze. Remove his toys, water, and food supplies as well. It's important that both your horse and his most used items are not exposed to potentially harmful cleaning supplies, or in the way as you're trying to get your work done!
3.) Clear away all soiled bedding.
Used, wet, and manure-filled bedding is a breeding ground for disease-carrying organisms that can harm you or your horse. Take care to fork all manure and used bedding into your wheelbarrow, and to shovel out wet bedding as well. Don't fill the wheelbarrow too high though and risk spilling the waste when you move to dispose of it—take a few lighter trips instead!
4.) Make sure your new bedding is thick enough.
Would you want to spend your nights sleeping on a flimsy air mattress with no support? Neither does your horse! When you're putting down fresh bedding, make sure you have enough to support his body and keep him comfortable. Use your pitchfork to fluff it up around the edges of the stall and check for thickness. If you tap the fork through the new bedding and hear it hit the ground, it's too thin.
Make the cleaning and maintenance of your horse stall easier on yourself by starting with a top-quality structure! At Deer Creek Structures, we have sheds and barns of all different sizes, styles, and designs available to fit the needs of you and your four-legged friend. Browse our prefab options online or give us a call to begin your custom design today!