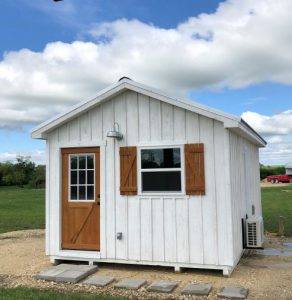 There are a lot of advantages to adding portable structures to your property. Portable buildings offer flexibility, are customizable, and provide more functional space for less money than the cost of building a whole new structure from the ground up. If you're looking for something simple, rustic, and spacious, a portable cabin is one of your best options.
Here are six ways to use a portable cabin to make your life easier!
1) Storage Space
One of the most common uses for a cabin on your property is extra storage—for a good reason! Many people add cabins to their property to make space for excess belongings, horse supplies, and other outdoor equipment that won't fit in their house or garage. It's a much cheaper and more convenient alternative to building a new garage or renting a storage unit.
2) Camping
If you and your family constantly go back to the same area to camp every season, why not invest in your own lodging? A small plot of land and a portable cabin will be far less expensive in the long run than a cabin rental every year and more comfortable than sleeping in a tent. This way, you can go at your leisure, as often as you want, for years to come! Plus, you can personalize your cabin to feel like a home away from home.
3) Home Gym
Half the battle of exercising regularly is finding the motivation to make it all the way out to the gym. But what if the gym was just steps away from your door?! With a portable cabin, you'll have plenty of room for all your favorite exercise machines so that you can work up a sweat at your convenience. You don't even have to fill it with expensive equipment. You can simply set up a TV for your workout videos or use it for any home workout you like.
4) Office or Workshop
It can be difficult to get work done in your home, where your mind is used to relaxing, and your family is running around. A portable cabin can be the perfect solution for your productivity. You have the space to easily set up anything you need, whether for work, crafting, or another hobby, and a quiet atmosphere where you can focus. Use your cabin to work your office job from home, perfect your woodworking skills, as a private reading room, or however your heart desires!
5) Hunting Cabin
Portable cabins are an ideal refuge for hunters who return to the same spot annually throughout the season. Many serious hunters make weekend trips (or longer) out of their excursions, so a cabin will be a welcome place to retreat to after hours in the field. You can also safely store your hunting weapons, gear, and other outdoor survival essentials here.
6) Alternative Living Space
Over the past few years, many people have begun to put a greater emphasis on minimalism and become less concerned with material items. This shift has led to the rise of "tiny homes," in which many people downsize to live more simply. A customizable, portable cabin can easily be transformed into one of these tiny homes with all the essential amenities you need. If you don't want to live there full-time yourself, you can always use it as a guest house or make some money renting it out to a tenant or on Airbnb!
With our variety of sizes and customizable options, a portable cabin from Deer Creek Structures is perfect for any use you have in mind. Our prefab portable cabins are made with our signature superior craftsmanship and can be built to whatever specifications are required to fit the needs of your property.
Contact our team at (254)546-2276 to inquire about our in-stock options or to order your custom cabin today!