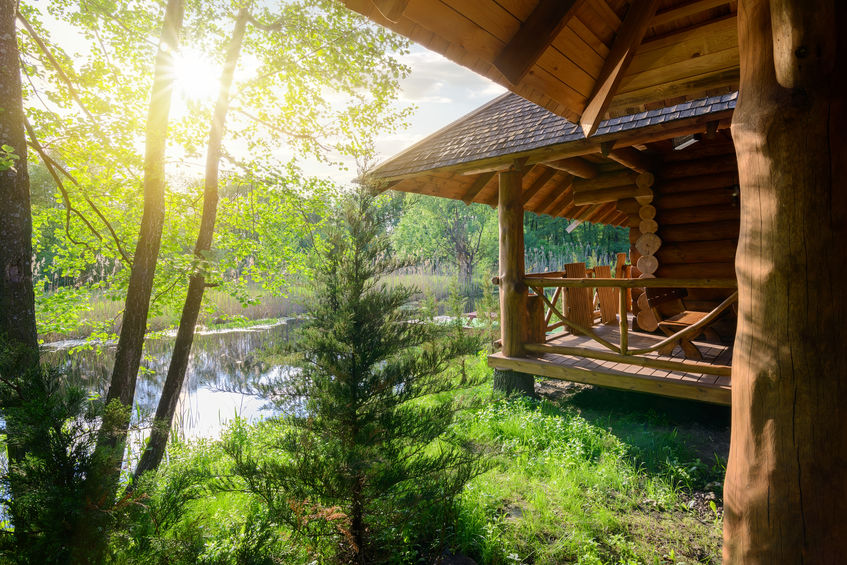 The temperatures are rising, flowers are blooming, and birds are chirping again, which can only mean one thing—spring has finally sprung! If you're a cabin owner, that means you can finally open up your favorite getaway again (or go back to enjoying it in the warm weather and sunshine).
Whether you closed your cabin for the winter or made it up there for a few weekends, it's likely in need of a little TLC after a long off-season. Start by going through these spring-cleaning tasks to get your cabin ready for the warm weather!
Inspect the cabin exterior.
Months of winter weather can be hard on your cabin, so it's a good idea to give your exterior a full evaluation at the beginning of spring. Identify any problems (damage, deterioration, mold/mildew) so you can address them right away. Here are the areas you'll want to focus on:
Roof
Siding
Doors & windows
Gutters & overhangs
Foundation
You'll also want to moisture-test your finish to ensure it's prepared to handle those upcoming spring showers. Throw a little bit of water on it—does it soak in? Or run off? If it runs right off, you're good to go. If the water soaks in, you'll want to apply a new coat.
Do some landscaping.
After you've determined that your cabin is in good usable shape, spend some time cleaning up and maintaining the area around it. Trim back shrubs, trees, and other vegetation so they don't cause wood rot and decay to your walls. It's also a good idea to invest in some pest control. There are a lot of insects and critters that emerge this season that can nest in and/or damage your cabin.
Clean up the interior.
Once your exterior is taken care of, do a deep, thorough interior cleaning. Start by cleaning your doors and windows, and then open them up to air out the cabin while you finish the job. Pay special attention to the floors, carpets, cabinets/counters, appliances, and give your linens a wash. This is also a good opportunity to declutter and take inventory of what you have, can get rid of, and will need to replace.
Looking to upgrade your cabin this spring? Check out the prefab portable cabins we offer at Deer Creek Structures! Our cabins are available in multiple sizes with customizable features to meet your specific needs.
Give us a call at 254-546-2276 to learn more about our pre-built structures and onsite construction options!