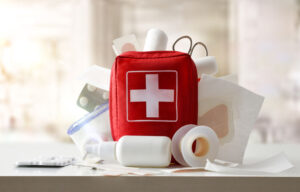 If you own horses, you know how injury-prone they can be. From small scratches and scrapes to more serious problems like muscle strains and broken legs, caring for horses can sometimes be difficult, especially during the harsh winter months ahead!
Here are a few first-aid essentials you should keep in your horse barn for when accidents inevitably happen.
Bandages
There are several different types of bandages, all of which have important functions. Standing wraps with cotton quilts will support muscles and rehab injuries. Vetrap can be used as a bandage (for people, too!), as a wrap to hold ice packs or to keep the horse's tail away from an injury.
Hydrogen Peroxide
This first-aid staple will clean dirt from fresh wounds and help treat thrush (a fungal hoof infection). However, please don't use it routinely on a healing wound, as it will hinder the healing process.
Hemostat
This useful tool will remove splinters, thistles, burrs, and other irritants from your horse's skin.
Thermometer
Make sure you get a horse-safe thermometer because you will need to use this rectally, which is the recommended way to check your horse's temperature. It is also advisable to learn how to take your horse's temperature when they aren't sick so you will know how to do it and your horse is accustomed to it. A normal temperature for a horse is 99.5 F to 101.5 F.
Disposable Diapers and Diaper Cream
You may think, "but I'm taking care of a horse, not a baby!" While this is true, disposable diapers are great for wrapping hooves with abscesses, and diaper creams protect heels from the moisture that causes dew poisoning.
Along with all these important first-aid essentials, you need a high-quality barn to keep your horses safe and protected!
At Deer Creek Structures, our Texas-built custom barns are the perfect addition to your farm property. From large aisle barns to run-in sheds, our team has the resources and passion for building a durable and practical structure for your animals.
Contact us at (254)546-2276 or complete our contact form online for more information on our incredible structures!