Chickens make a great addition to any farm, ranch, or backyard! They're fun to keep and provide a constant source of fresh eggs for your breakfast plate.
Just like any creature, your chickens need a clean and orderly home to keep them healthy, happy, and comfortable. It's your responsibility as their caretaker to give them just that. Make sure your chickens always have a top-quality coop to retreat to at the end of the day, by following these steps to give your coop a thorough cleansing!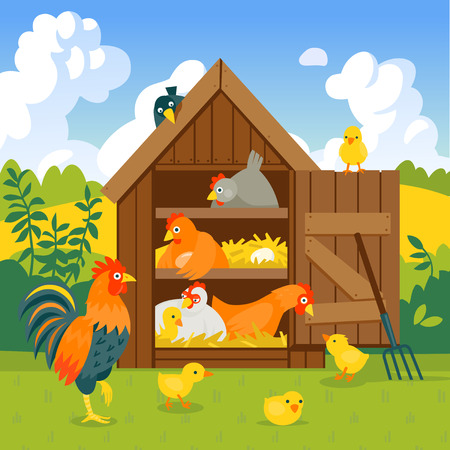 Purge it.
Completely overhaul the contents of your coop so you and your chickens can start with a clean slate. Take out everything that's removable—feeders, drinkers, nesting boxes, etc.—and set it to the side. Next, you'll want to throw on a good pair of gloves and a face mask and muck out the used bedding.
Scrape it.
Once you've purged everything you can remove with your hands from your coop, it's time to use a little elbow grease! Scrape off any remaining dried bedding, chicken poop, cobwebs, feathers, and any other leftover dirt and debris. A square shovel or paint scraper make excellent tools for this grimy job. Don't forget to sweep the floor of the coop to remove the fruits of your scraping labor!
Wash it.
It's important to be just as thorough in the washing of your chicken coop as you were in the scraping. Hose it all down and start scrubbing! Wipe everything down completely with your coop cleaner—an easy DIY mixture of apple cider or white vinegar and water—and then rinse it in a layer of boiling water to further disinfect. Be sure to clean the feeders, drinkers, and nesting trays you removed earlier as well.
Dry it.
The easiest way to dry your newly-laundered coop is to simply let it air dry. Open the doors and let in some fresh air and sunlight to get the place ready for your chicks! Once your coop has dried completely, add a fresh layer of bedding and replace the other pieces you took out to clean.
Save yourself the trouble of having to constantly clean your chicken coop by investing in one that can comfortably house all of your chickens! At Deer Creek Structures, we provide a selection of prefab chicken coops with the top features, in a variety of sizes to meet your needs. We also offer custom size coops for sale to accommodate flocks of any size.
Contact us today to learn more about the convenient and quality housing options we have available for your chickens!