We've dedicated our business to making life easier for horse owners by building top-notch horse shelter solutions, including portable aisle barns that are both durable and aesthetically pleasing. Stables and barns are universal horse spaces because they not only house the majestic animals; they also provide ample storage for other pertinent items.
Today, we would like to further discuss the advantages of portable aisle barns. This barn has a unique arrangement with plenty of stall and tack room available, while also providing a spacious aisle for moving horses in and out, grooming and other habitual tasks. Horse ranches definitely benefit from this type of barn strictly due to the roomy setup, and if there is one thing all property owners seek, it is more space.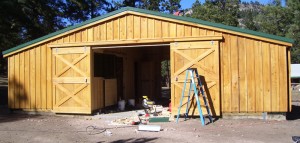 The design of an aisle barn has to be carefully planned out. Due to the fact that the aisle plays a crucial role in the functionality of the barn, an isle that is too narrow restricts traffic flow, making it difficult to move about. You have to allow enough space for turning the horse from one direction to the next effortlessly.
With our aisle barns, horses can be seen from either side of the aisle, which makes tending to the horses that much easier. You can choose from either a 10-foot or 12-foot aisle, and you have the option of incorporating Dutch doors at the back of each stall for outside access. Plus, our aisle barns are portable, meaning you can have it moved to wherever want on your property.
For more information about our portable aisle barns, please feel free to give us a call. Making your ranch run more efficiently is our mission, and we love working on new projects!