Camping is a wonderful experience for families, friends, and outdoor enthusiasts looking for a little personal time with nature. There are so many fun things to do and places to explore on a camping trip—especially in the fall!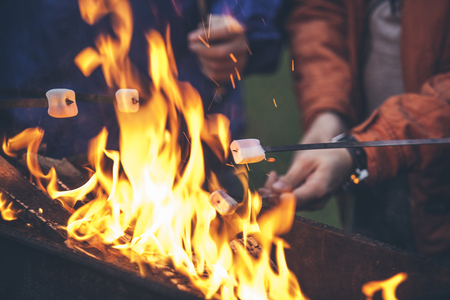 Truly dedicated campers know that as summer wraps up, we're actually entering the beginning, not the end, of the best camping season. Once you check out these reasons why autumn is the prime time for camping, and find the perfect place to stay, you'll be packing for your next trip before the leaves even start to fall!
Fall weather is perfect camping weather.
Who wants to spend their days under the blazing sun, and their nights in a stuffy cabin or tent? The cooler temperatures of fall are much more comfortable for camping than the summer heat!
The humidity is gone, the air is crisp and fresh, and there are even fewer bugs around to annoy you. The nights are a little chilly but not freezing—perfect for a cozy campfire before a great night's sleep.
The foliage is breathtaking.
The gorgeous red, orange, and yellow hues of autumn are hard to beat when it comes to picturesque scenery. Their beauty is especially striking in rural camping areas!
Fall is a great time to hit the hiking trail to take in all the colors and the magic of the falling leaves. The brighter colors and thinner foliage make it easier to spot wildlife too. After you've exhausted yourself on your hike, head back to the comfort of your warm cabin for a few s'mores and some hot cider.
Escape the stress of the season.
Fall tends to be a busy time for everyone. The beginning of a new school year and the looming chaos of the holidays—especially in combination with the receding daylight—can really take a toll on your mental health. A quiet, relaxing camping trip is the perfect little getaway to give yourself a breather!
Take some time for yourself or a long weekend with your family and head out to the serenity of the campground. Because everyone is busier, there will be fewer crowds, more privacy, and a better opportunity for rejuvenation.
If you're looking for the perfect spot for your next fall camping trip, invest in something you can turn into a home away from home! With a prefab or custom-built portable cabin from Deer Creek Structures, you can enjoy the beauty and tranquility of nature in any season.
Contact us today to learn more about our services and have your cabin ready this fall!