Horseback riding is a fun way to get some exercise, enjoy the great outdoors, and bond with an incredible animal! It's a favorite American pastime that everyone should try at some point in their lives.
If you're thinking about picking up horseback riding as a hobby, getting started can be a little overwhelming. There's a lot to learn and remember about taking care of your horse, gaining and maintaining control, and proper riding techniques. Don't worry though—we have some helpful tips to get you started!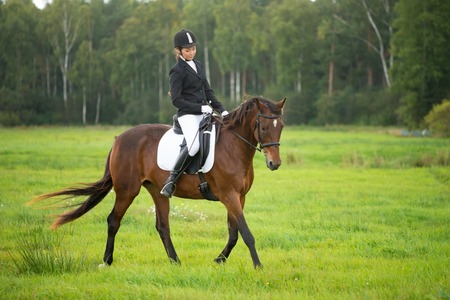 Approach a new horse carefully.
The last thing you want to do is spook a horse—especially one you're about to ride. Start your relationship out right by cautiously walking up to your horse from the front. It's best if you approach in an arc instead of straight on to avoid coming off aggressive.
Let your horse know you're coming by speaking to him as you approach. A verbal greeting will signal your arrival and help prevent you from catching him off guard. Remember to be mindful of your horse's many blind spots too, and to never walking behind him in kicking range!
Focus on your posture.
Horseback riding is all about balance. Sit up straight and relax your body. Slouching will make it more difficult to control your horse and support yourself on the saddle. You might be tempted to look down at your horse for some comfort or just because he's so adorable, but you should be looking forward and remain alert to ensure both of your safety!
Let your relaxed stance spread through to your legs too, to prevent them from tiring out, and channel your weight into your heels. Clenching your legs or drawing your knees up might accidentally cue your horse to move forward when you're not ready. Allow your legs to hang down from your hips and keep your feet in the stirrups directly underneath you—don't swing them forward or back.
Maintain good control of the reins.
Your horse will be listening for commands through both your body language and the reins! Keep them tense, but light, and your hands at hip level. Don't forget that you're handling a living creature and not a machine, so you need to be gentle.
Retain a strong grip and don't let the reins slide through your hands, otherwise you'll lose control of your horse. Try not to grasp too hard or pull forcefully either though. If the position of your body and your verbal cues are pointing your horse one way, but the reins are pulling him another, he's going to get confused and you won't be able to direct him. Also, be sure you're adjusting the length of the reins as your horse moves to keep them taut, but gentle.
Practice!
The best way to improve your horseback riding skills is use them often! Keep your horse with you so you can venture out whenever you'd like with a convenient run-in shed or horse barn for your property. At Deer Creek Structures, we offer pre-built sheds, barns, and stables, as well as custom design options to meet the needs of you and your horse.
Get started on choosing the right structure for you and contact us today to learn more about our horse housing options!