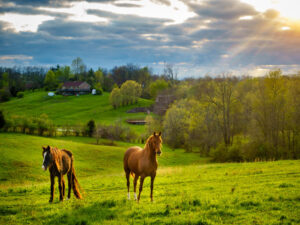 With warmer temperatures approaching quickly, it's time to prepare your horses for the spring season! From longer rides, work in the pasture, and traveling, your animals need time to adjust to their new busy schedules that the warmer months bring.
Here are a few tips to prepare your horse for transitioning into a new season!
Schedule a Veterinarian Appointment
Getting your horse examined by a veterinarian before spring weather is in full swing is important. Mosquitoes start rising in the spring, and many horses can get diseases from them if they are not vaccinated before mosquitoes become active. Getting a general check-up is also important to ensure horses are illness-free and healthy going into a new season.
Check Horses Surroundings
If your horses often graze in a pasture, you must check your fences after winter months to make sure they are still secure. Weather often fluctuates in winter months, which can knock down fences, make wires loose, etc. Check your horses' surroundings and manage your property to ensure they are always secured and safe!
Examine Your Trailer
Spring and summer are popular times for transporting horses to events and shows. Inspect your trailer in the spring, especially if you haven't used it lately. Ensure all your lights are working and the brakes are functioning well. Transporting a horse can be challenging, but having a well-functioning trailer can make it easier.
Ease Your Horses into Shape
If you do not ride your horse often in winter months, make sure that you slowly start to get them into shape. If it has been some time since your horse exercised vigorously, you must slowly get them back into shape. Horses can get sore if they exercise too hard after not exercising for some time. Ease your horse back into an exercise routine to avoid injuries
While inspecting your property and ensuring everything is ready for your horses to have a successful spring season, you may find that you could benefit from a new run-in shed or barn for your horse to take shelter in.
At Deer Creek Structures, we have the run-in sheds and custom barns your property needs to protect your animals. There are many advantages to these portable sheds, and we have the best resources and craftsmanship skills to ensure we build something long-lasting and of high quality for your property.
Contact us at (254)546-2276 or browse our website to view our current stock!